Man, it was gorgeous out there, though it's bothersomely weird already feeling a touch of fall in the air. Today's lack of congestive summertime ozone, which can give Ocean County air that yellowish haze, makes life so much clearer and comelier. This is one pretty-ass island when it shines like this.
((((((((((((((((((((((((((((()))))))))))))))))))))))))))))
Fishing stuff: Sharking has gone other-dimensional. We're not just talking larger brown (sandbar) sharks but also shark numberfulness. I had one surfside angler lose count of his take of sharks to 50 pounds. The thing is you don't have to go gonzo with gear. Sure, it'll help to have heavy hitting tackle should a massive marauder come along but even medium saltwater gear will win over larger browns. In Fact, the lighter the gear the more fun.  
I stopped by the super-fun, often underutilized Barnegat Light fishing pier, west of parking area Andy's at the Light.  I'm not talking about the famed jetty rock fishing of BL State Park. The borough's fishing pier is close to 200 feet of railed, waterside walkway that offers serious fishing. Unlike Morrison's, the fish at this pier can run a large, though it also offers panfish galore. It needs a net. Currently, fluking using just-caught snappers as bait is popular.
Pop's Pride and numerous other charters and headboats are tapping into the greatest blowfish showing since the 1960s blowfish debacle. Capt. Koegler's fares were bringing in puffers by the dozens, drawn near by chum. 
I'm of the old "nail" method of cleaning blowfish. We'd sometimes clean literally hundreds a day back in the BBQ days. The trick was to slice a blowfish behind the ehad but not through the belly skin, then hook the top skin of the tail on a nail driven into a piece of wood or atop a low piling, then yank the head backwards. The super tough skin would free a perfect filet, a bit akin to large shrimp in shape.
However, the folks at Garbagefish.com have made this helpful blowfish fileting primer, using one of their grabbers to hold the topside tail skin. See http://www.youtube.com/watch?v=OGe316PYjtg, or use YouTube keywords, "blowfish cleaning."
Kingfish are out there but not majorly. Of course, ten years back we didn't have any even though the fishery was huge in the 1960s. They can still be targeted in the surf and will become even more so as they begin school up for the fall migration, which runs fairly late (into October) when compared to blowfish, which will bolt pretty much overnight  come late august. 
Spot are spotty but on fire if you're spot on. Double-header hooking can be found in the surf and near inlets.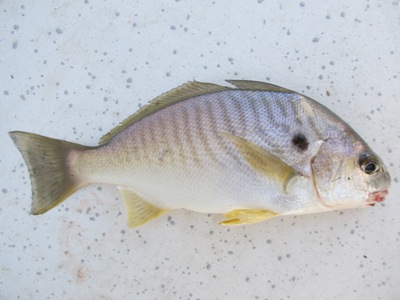 Above: Black seabass juvenile.
I have to think that bayside panfishing in Beach Haven (Morrison's area bulkhead) will soon explode, as in right now. Check tackle shops to gear  up for that neighborly fishing experience. Please (!) make sure you know what fish species have size limits, as in most of them. All black seabass are off-limits from August 9 through Sept. 26. I bring that up since the bay is absolutely loaded with small seabass. Tip: Use small snapper bluefish as bait for larger fluke. Use heavier gear if you go that flattie route off the bulkhead. Also, you will need a net for larger fish, including occasional large weakfish. The channel just west of Morrison's holds tiderunner sparklers.
My night weakies have seemingly flown the coop. Oddly, I had something huge explode on a small mirror-finish surface plug I was using, around midnight. I can only guess a major weakie or, maybe, a huge houndfish. It scared the crap out of me after 25 absolutely non-productive casts. Not a peep afterward, even though I emptied the entire tackle box toward the spot. I hate that. At least give me a quick look-see. 
(((((((((((((((((((((((((((((((((())))))))))))))))))))))))))))))))