Note: The snowys currently hanging in Holgate and other LBI areas mainly eat other birds. I base this on the dozen or so boluses (regurgitated balls) I've opened, though one had mouse material. .
(All photos before eels are mine)
Sunday, December 23, 2018: You seldom think of winter days as highly beach-worthy but today fully qualifies. Sure, there's a nip in the air but it's far from a bite. In fact, loads of folks – by winter standards -- are taking in the sand … in a walkabout manner; dogs galore.
On an oddly warmer note, the days heretofore (until June 21) are getting longer. Yep, we're over the shortening-days syndrome. Guess that means spring is just around the corner. If only.
Below: Still prowling the dunes ... The Holgate Thang
While I used to annually take potshots at what the weather might be for an arriving winter – sometime even based on build-up data from previous years – sky things are so insanely out of kilter that there's not even a clean potshot to be had. The sky is like the Wild Wild West in as much as nothing is certain just around the bend. In fact, major weather predictors are geometrically opposed when opining on what winter 2018/19 might do.
The best way to head this winter off at the pass is to be ready for anything, keeping everything from snow shovels to short-sleeved shirts close at hand. I'm hankering for the latter. We haven't had a melty and mild winter in a long time. Of course, name a winter in all of history when LBI'ers haven't had to be on guard for every dang possibility.
Along those weathery lines, I hope to use this blog to keep off-Islanders apprised on what's what hereabouts. The only thing I might shirk on constantly covering is every Boulevard flooding episode. Hell, that sunken roadway floods if the sky even thinks of rain. Anything above the upper end of moderate flooding, I'll get word in here.
Hopefully nothing quite this floody ... 
EEL APPEAL: In a "La Vigilia" (The Feast of the Seven Fishes) theme, I went with an eel meal last night. Thumbs up to Manahawkin Shop-rite for rushing in some very fresh, ideally-sized and decently-cleaned American eel. By the by, it's best to let the pros clean eels.
Admittedly, an eel meal can be a bit of a picky eating chore -- when carefully separating the meat from the thick backbone, which remains in place even after smaller bones are removed via cleaning.
Cooked correctly, eel is fully delicious, especially when graced with some Italian seasonings -- though I always offer a dash of Old Bay Seasoning, the finest overall seafood seasoning known to Mann.
I prefer cutting a whole eel (which is how it is sold) into roughly two inch pieces. Then, I opt to pan fry in lightly-heated olive oil -- after (tradition-breaking alert!) maybe three to four minutes in the microwave. The nuking perfectly heats the middle of the flesh, which can be tough to properly heat without overcooking the surface/skin. Though I didn't do it last night, the forked pieces of eel meat come alive with a melted butter dipping.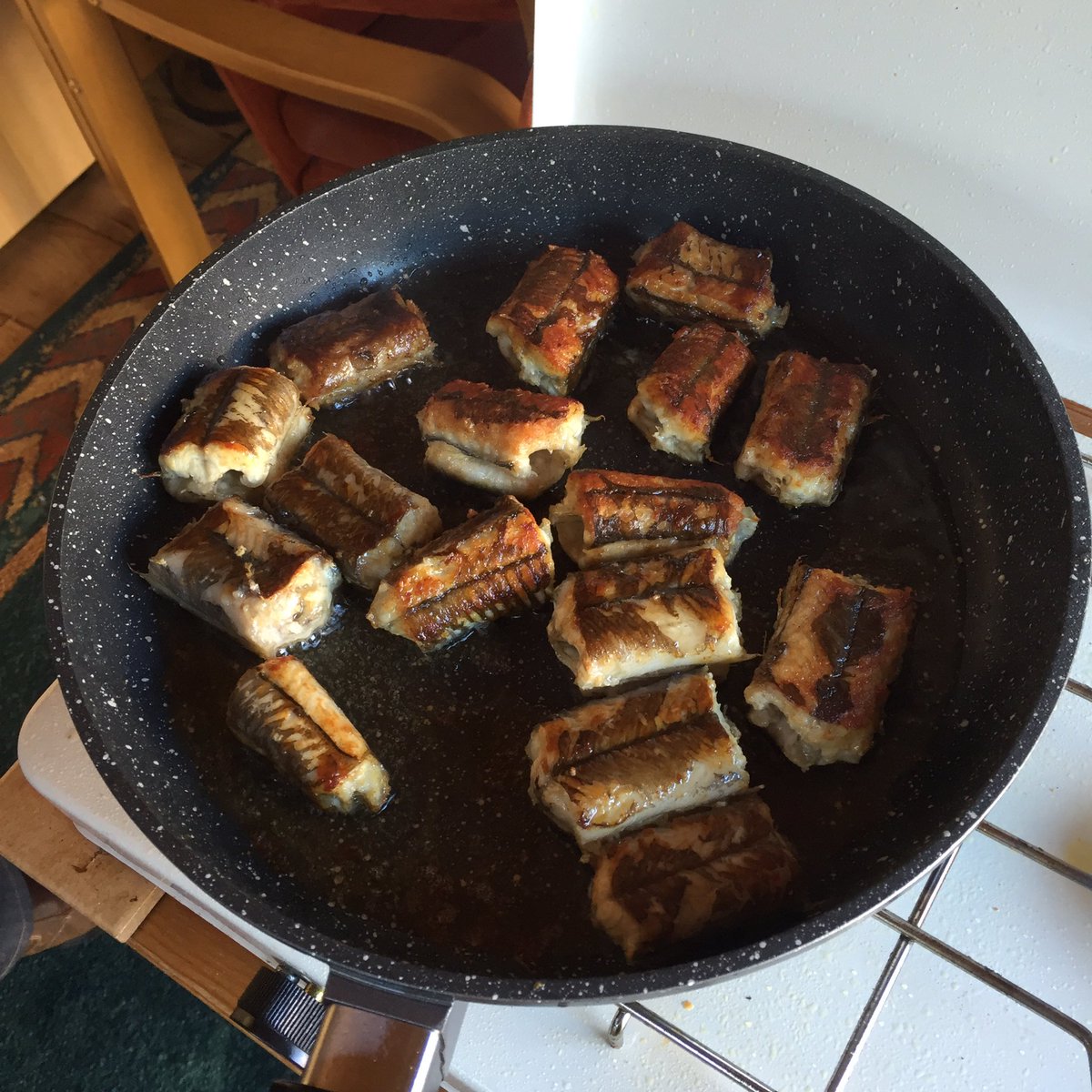 The taste of eel is very mild, far from fishy. The skin, which can readily be eaten, is particularly tasty when eel is lightly fried.
To be sure, even the best-cleaned eel it is an adult dish – not for kids -- since some small bones always finagle their way into the flesh.
*********************************************************
(Thanks for picking up "parallel" mistake, Mr. Skunked. Repaired.)

HOLGATE TERMINAL GROIN UPDATE: I need to update south end folks that the proposed steel-sheet barrier groin, being called a terminal groin, is happening. It will go where the old "Wooden Jetty" wood and stone groin now resides. Work could begin very quickly, as in the first weeks of January. Yes, this coming January, as in a couple/few weeks. However, with a project like this, technical matters arise, including what the sky is doing, making an exact starting date changeable, though sooner-than-later applies.
It takes a bit of imagination to picture what is going to be done to build this new steel sheet pile groin. It begins with 163 sheets of steel, the cost of which has already been bonded by Long Beach Township. The steel sheets are 22.5 inches wide and, by my figuring, between 38 and 40 feet long. 
A vibratory hammer piling machine will drive each steel sheet 30 feet into the sand. Vibratory driving is quieter and much less earth-shaking then heavy-impact pile driving methods. 
The tops of driven sheets will extend about ten feet above the sand line for the first 160 feet and eight feet above for the last 145 feet, meaning the outer series of sheets would seeming be 38 feet long, unless the 40-foot sheets are driven a couple feet deeper down. 
Now to distances. The steel sheet groin, when all the pieces are snugly set side-by-side, west-to-east – and parallel to the existing "Wooden Jetty" -- will extend out to sea for 305 linear feet, pretty much the length of a football field. 
The permit also allows for any "… movement or rehandling of existing stone" to allow for the driving down of sheets. That, to me, sounds a tad problematic, both for the many folks kinda attached to the old stones and also the company doing the work. 
Per the Army Corps permit, when the steel sheet groin is in place, a beach replenishment will be allowed from Roosevelt Avenue south-southwest, some 1,250 feet, to the terminal groin. The replenishment sand would taper back immediately southwest of the terminal groin. 
The fill sand, approximately 112,150 cubic yards of (likely) locally-mined sand material, would be brought in by truck. It would cover an area of 12.38 acres, of which 7.93 acres would be placed below mean high water line. 
As to staging of heavy equipment restriction, as it relates to public access to the Holgate Refuge, I'll investigate that. However, I'm guessing that 163 40-foot long steel sheets being trucked in will take some crafty driving skills when being delivered through the modest parking area at the end of the Boulevard. Then there's that abrupt left turn that must be made at the far south end of the parking lot. During such deliveries, I could see a shutdown of the parking area, possibly from the project's get-go. I'm hoping not for buggyists/my sake. Pedestrians can always get onto the Refuge area via another nearby street, which I won't mention by name. 
I have some questions about this project, none of which are overly disparaging, per se. The biggest wondering for a lifelong wave person like myself is what, if any, danger these exposed steel sheets might present to waveriders, should the groin not cover with sand, as theorized. With the replenishment coming immediately after the building of the groin, it might take some erosional time before such a steel sheet exposure takes place. As to who might be the first waverider to impactfully discover that underwater steel sheets have arisen from the sand? Let's just hope the groin remains sanded under/over. 
Might the steel sheet piling groin area be rendered off-limits to waveriders, due to "water hazards"? That's just me wondering. Surely, any water dangers have already been worked out by experts. Right? Maybe big "surfer-saver" rubber bumpers will be placed on the top of the groin, though hitting anything unlovingly solid while being driven under by a powerful wave ...
********************************************
Much ado about dreadlocks being sheered in wrestling match. How about this dreadlocks removal ... Check tackler's hand closely.
************************************************************