Friday, December 21, 2018: Let's see, my vacation began yesterday afternoon. That was right about when it began raining and flooding. My first full day off, as in today, makes yesterday look like a bargain. Island is puddled under, with some bay flooding mixed in. It's so drab that even a trip to Holgate wasn't worth the journey, although I sometimes use drabness as a photo op, looking for that, uh, drab look. Something about a rain-soaked snowy owl elicits that odd "poor little thing" appeal to certain motherly folks. Below: Not my shot! See https://iso.500px.com/shams-story-how-a-sad-looking-owl-made-for-a-...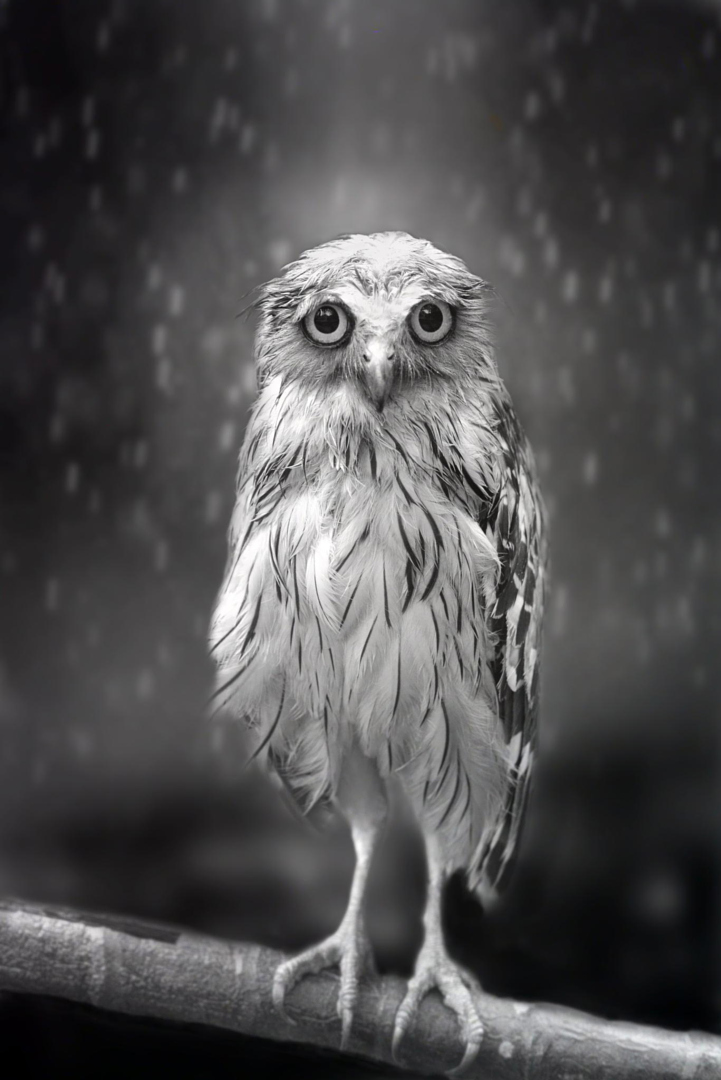 Here's hoping skies clear and I can get cracking on clams, treasure and, of course, that Christmas striper. 
CLASSIC INSIGHTS: I Need to offer one last read on the 2018 LBI Surf Fishing Classic – by drawing on the classic albeit trite: It was the best of times, it was the worst of times.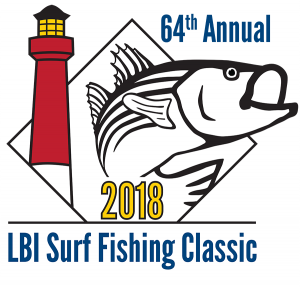 Firstly, a huge congrats to the winners, who managed to find beach bass where there pretty much were none. Keep in mind – I know it's hard to fathom – this contest looks for winning fish more than the total number of fish. Spoken like a skunked angler, right?
As to this fall's awful striper showing, that'll all change next year when, totally out of the blue, the bassing will turn on like someone broke some sort of striper dam.
I must note that such undying upbeatness is my self-assigned job as part of the Classic's eclectic steering committee. For me, it's truly not hard to constantly see better times right over the horizon. That said, I'll admit that starting at this early date with upbeatness toward next fall's event indicates a pressing need to get quite the running start.
Along with sincerely thanking the 688 sign-ups -- many of them die-hard fans of this long-lived tourney -- a huge mahalo (that's Hawaiian for "thanks," i.e. a warm thanks) to the businesses that contributed to the event. They're part of the best of times. Their sponsorship has been kick-ass. Here's hoping this year's "Classic" window banners showed customers how much those participating businesses care about keeping Island traditions alive. We'll be doing banners again next year. 
Inching toward less-than-best of times, forty fish among 688 anglers is sub-lame, in fact it's sub-pathetic. While I'm a fanatic optimist, I must call dismal … dismal. I write my columns with the same stubborn objectivity. I can even use off-color terms, like piss-poor. 
WRONG!: Being close to the Classic, I need to dispel a notion that un-won prize money during slow years somehow leaves the tournament rolling in dough. Take it from a becoming-veteran "Derby" committee member, it costs a load of money just to maintain this tradition, annually. This is evidenced by the Classic coming close to being no more, a couple times. In fairly recent years, we were down to a proverbial last dime. Just the expense of hats, t-shirts, stickers, scholarships, entry forms, weigh-in slips, insurance (yes, insurance!) and a slew of other also-costs – above and beyond the cash prizes -- makes simply running the contest a fiscally demanding effort.
In the past year, the Classic committee has begun meeting monthly, all in an effort to assure the once-Derby/now-Classic keeps on keeping on. Again, it has gone to the brink a couple times, most direly when the Southern Ocean County Chamber of Commerce – which will attest to the expense and massive effort involved with running the tourney every year – seriously pondered putting it to sleep, permanently. While it had long been the Chamber's baby, going back to the Board of Trade days of the 1950s, there were mighty compelling reasons for it to pull the plug, primarily due to the overwhelmingly costly staff/personnel time it consumed.
One year I recall in particular, the Classic was kept alive through the lone effort of the late Frank Panzone, who, as a sole dissenting vote in the Chamber shutting it down, refused to let it die. He won the day – and allowed time for the event to transfer to grassroots maintenance, passing from the hands of the Chamber and into those of tackle shops, fishing clubs, individual anglers, and even media reps (like myself).
Since the highly-amicable hand-off from the Chamber – which is still a strong supporter of the Classic (we often meet in Chamber offices) -- the new keepers of the Classic flame have personally taken on the trying task of not only resuscitating the contest but  somehow revitalizing it to the point of former glory days. Tackle shops are leading the effort. 
Keep in mind, the first 1950s Striped Bass Derby days, which would draw in over 2,000 entrants, was such a different world hereabouts. Along with wild first prizes, like new 4WD vehicles, classy boats and loads of cash, there were simply more fishing-minded folks; far more dedicated outdoorsmen, plain and simple. Back then, the Board of Trade's invite to come on down to off-season LBI and hit the beach to fish for fun and profit for weeks on end was overwhelmingly received. It fit the times like a fall glove. 
Again, the demographic was far different decades back. We were a highly-affordable place, made more so by fall deals on rooms and restaurant meals for Derby participants. Folks coming down to fish the Derby expected very little in the way of being, let's say, entertained. In fact, for almost everyone, fishing rocked. It alone was easily worth the trip. Of course, there is no overlooking the fact that even small stripers were legal back then. All that one-time chemistry made running a big-time Derby very simple. What's more, the six-week tournament was pretty much the only fall boon to business.
Below: When surf fishing was for everyone: 
Which cycles us back to what the modern Classic must now ponder: new falltime attitudes, enhanced autumnal crowds and fewer anglers/outdoorsmen.
For me, this newness can cycle us back to the "best of times." The number of fall visitors is at an all-time high. For that, a huge "Well done!" to the Chowderfest, 18-Mile Run, Kite-fest and numerous boat fishing tourneys. Now, to reinvent the LBI Surf Fishing Classic, bringing it back into the hearts and minds of fall folks – even those who can't surf fish … yet. This reinvention includes attracting young'uns, i.e. somehow getting them to put down the electronic devices. In fact, you know what, for starters, let them bring cellphones and laptops to the fishing beaches – in a ween-them-off way. Here's hoping the fresh air and hookups perform the rebirth magic it performed for almost all of us, bringing the kids back into the surf fishing fold, with hands holding fishing rods instead of electronic games.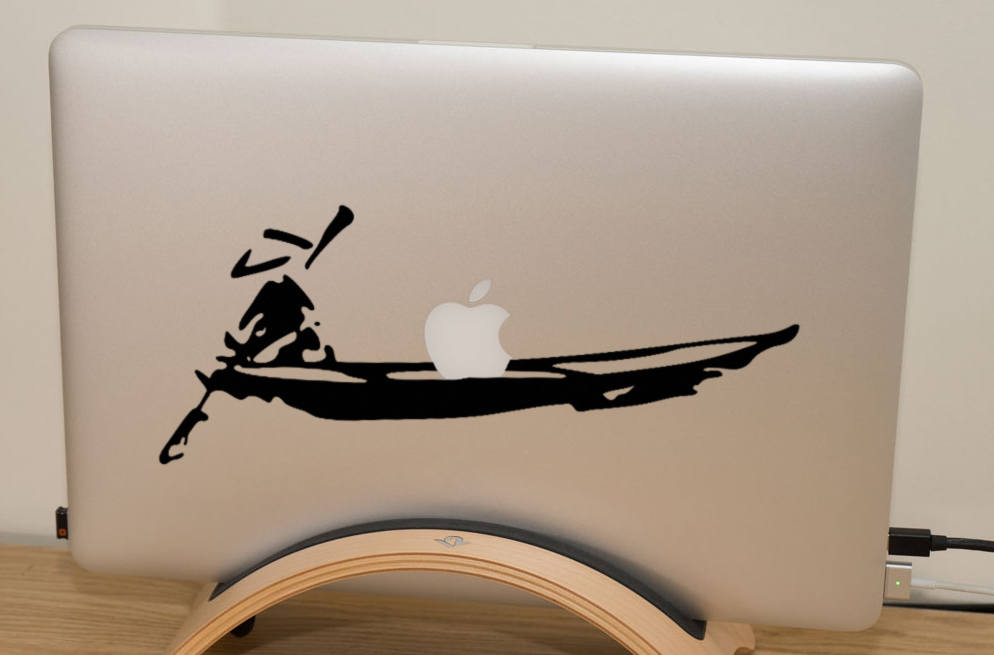 ****************************************************
Now and again I pull out this pic I took while interviewing famed striped basser Al McReynolds. 
Al and I really hit it off and had a sit-down after the interview. That's when he floored me by saying that catching his world record fish was one of the worst things that ever happened to him. I recall being speechless – unheard of for me.
Along with a lengthy and ugly battle for the much-advertised prize money promised for breaking the striped bass world record, he was most ravaged by the almost immediate accusations of his somehow cheating, despite having an exceptional fireman witness to his catch. He talked about needing to wait until a weigh-in station opened the following morning, which somehow added suspicion -- even at the scales! 
To me, he was speaking of the same insatiably mean-spirited pack of jealous anglers who jump at any chance to attack a winning fish. Hell, I once brought a still-flapping 50-pound tourney fish to the Bruce and Pat scales. When first caught, that fish was seen by an angler passing in a buggy -- right after I hauled it up the beach, yellow Bomber plug still in its mouth. I even showed it to a police officer in the parking area as I drove it off the Holgate beach. I quickly delivered the fish live, into Bruce Hoagland's hands.
Amazingly, by the next day, it was being said that commercial fishermen had given it to me -- somehow, on a cold and windy night ... still flapping! This was right when commercial fishermen saw me as a recreational-fishing enemy of the worst ilk. Who had come up with such nonsense? The angler in the buggy who passed by me! Are you kidding me?! 
Oh, I still fish like crazy, but only passingly speak/write of my angling. I almost fear getting another major striper.  OK, so maybe I don't fear all that much. Still ...
Al McReynolds' State and World Record Marine Striped Bass
---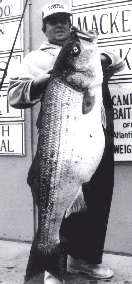 Al McReynolds pulled this World Record striper from the Atlantic fishing at night off the Vermont Ave. jetty in Atlantic City following days of September Nor'easter storming in 1982. The fish was taken on a 5 1/2-inch long Rebel Black-back silver minnow plug on 20-pound test line. It took one hour and 40 minutes to land the fish on the slippery jetty. The fish measured 53 inches in length with a 34 1/2 inch girth, and was estimated to be 20 - 22 years old. Its 78 pound 8 oz. weight earned it the IGFA all-tackle record!