Below: Kids and kids don't mix:
Friday, February 06, 2015: It's still cold and raw and windy … I say ef-it-all!
I do see some long-term moderation in temps, starting soon. It won't be a big break from the icy shakes but a bit closer to normal and easily enough to start a thaw … so I can get at the treasure. Some of the things I'll be targeting have seen 200-plus winters. Many of my dig sites are colonial.
So, do things buried so long want to be found? Some do … many don't. Gospel truth, there are found items that you have to watch constantly or they'll take like banshees. I kid you not. I've gotten home with the likes of ancient coins and buttons, put them down and when I went back to get them for cleaning … "Poof!" Hey, you have to be in this business to experience the way seemingly inanimate objects can have minds of their own.
Anyway, if any of yinz know of old dig-able sites, I will literally split any finds with you, 50/50 … Hey, I'm in it for the digging and finding. OK, so technically I'm only 50 percent in it for the digging and finding … thus my 50 percent cut. Still, in my business, a good find – and a 50/50 split -- can pay off the mortgage.
Check out this living proof:
Articles from a couple years back ...
"Set to cross the block in the Stack's Bowers Galleries Official Auction of the Whitman Coin and Collectibles Baltimore Expo is a famously rare New England sixpence, considered the most valuable American coin ever found with a metal detector.
"This remarkable coin, struck in 1652, was discovered 339 years later in a Long Island potato field. Using a metal detector, Lillian P. Rade of East Hampton, recovered the extremely rare coin, and the story made national news. The incredible discovery was even covered by "Ripley's Believe It Or Not," which illustrated the coin and told its remarkable story in a December 11, 1991 feature. Today, rare coin experts believe the coin will sell for a price over $100,000."
MELVILLE, N.Y. -- A silver Colonial Massachusetts coin from 1652 that was found in a potato field has been auctioned for $430,000.
It garnered four times as much as auction officials expected. It was sold last week at the Colonial Coin Collectors Club in Baltimore.
The coin is one of eight known to exist.
It was first auctioned in 1992 by Lillian King and sold to an auction house for $35,200. The man who ended up buying the coin from the auction house resold it last week for the large sum.
King tells the newspaper that she wishes she had waited to sell the coin.
LOOK: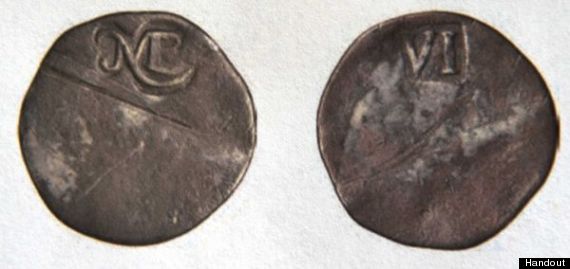 ___
((((((((((((((((((((((((((((((((((((((((((((((()))))))))))))))))))))))))))))))))))))))))))))))
"Ha-ha, Jay, we're at sunny Seaworld feeding the dolphins and ...
AAHHHHH!"
((((((((((((((((((((((((((((((((((((((((((((((()))))))))))))))))))))))))))))))))))))))))))
The small seal that has been lying around at the 5,000 foot mark in Holgate keeps hanging there, sunbathing. That's not a great sign. I think it's struggling ... above and beyond being bugged by buggyists passing by. I watched it closely and it can't find a comfortable position to rest. That's often a sign of parasites inside. I do worry it's in the track of buggies -- and hikers -- but neither is going to miss the seal lying there.
Here's one of the seal's buggier moments ...
Not much to see on video I sent to MMSC, below:
http://www.youtube.com/watch?v=LutZS6KreVI
(((((((((((((((((((((((((((((())))))))))))))))))))))))))))))))))))))
An odder look at wind and sea erosion ...
((((((((((((((((((((((((((((((((((((((()))))))))))))))))))))))))))))))))))))
((((((((((((((((((((((((((((((((((((((((((((((((())))))))))))))))))))))))))))))))))))))))))))
"OK, I'll show you just one more time. We both run at each other and ... boink -- just like that. It's gonna be fun, I'm tellin' ya."
(((((((((((((((((((((((((((((((((())))))))))))))))))))))))))))))))))))
Here's a freaky read to be sure ...
Japanese Scientists Try Using Mackerel to Breed Bluefin Tuna
SEAFOODNEWS.COM [SeafoodNews] - February 6, 2015 -
Scientists at universities, particularly Japan's Kinki University, have been trying to farm tuna for years, but with limited success.
One challenge is that tuna take up to five years to mature into the breeding stage of their life-cycle. There also is the propensity of blufin to slam into the walls of tanks where they are being grown out.
Tokyo University of Marine Science and Technology fish specialist Goro Yoshizaki has come up with an innovative plan to use mackerel as surrogate parents for bluefin tuna.
His concept is to inject the reproductive cells of bluefin tuna into juvenile mackerel. Then, as the mackerel mature, the females will produce tuna eggs and the males will produce tuna sperm, instead of mackerel eggs and mackerel sperm. Then, after reproduction little tuna will be born instead of mackerel.
The big advantage of using mackerel is that they reach reproductive age in about a year. Also, because mackerel are so much smaller they are easier to grow out in tanks and require less feed.
Mackerel is also a good choice because it is from the same sub-family, Scombridae, as tuna. This means its DNA is similar.
Reports of this research say it may be as much as ten years away from achieving commercial scale.