Kendra Gear is unveiling a new reel at ICAST, and its design could change the game.
How often does your fishing line get twisted, causing tangles and headache? How many more casts could you have made while you were monkeying around with your twisted line?
Kendra Gear is out to fix that. Their new Straightcast Reel, set to be properly unveiled at the International Convention of Allied Sportfishing Trades (ICAST) next week, takes the line twisting conundrum and virtually eliminates it.
Watch the video from Kendra Gear, LLC to see the reel do its thing.
((((((((((((((((((((((((((((()))))))))))))))))))))))))))))))
((((((((((((((((((((((((((((()))))))))))))))))))))))))))))))
July 11, 2014 -- The following is an excerpt from a story originally published onFoxNews.com. The full version can be read here. 

Additional coverage from THE WASHINGTON POST: 
"Pacific fishing interests oppose Obama's plan to expand marine reserve"


(Fox News) American fishermen are reacting with skepticism, concern and frustration at the latest murky steps to prevent fishing in vast tracts of the Pacific. The proposed expansion was announced along with other White House ocean conservation initiatives on June 16, as the kickoff to a two-day State Department conference aimed at greater international coordination to overcome a variety of ocean ills, including not only overfishing, but marine pollution and ocean acidification -- the last linked by conservationists to global carbon emissions and "climate change."

When it comes to providing input to the administration's expanded preserve plans, however, a number of important stakeholders have already spoken -- against them.
"All of this is a terrible, terrible abuse of power," charges  Doc Hastings, the chairman of the House Committee on Natural Resources. "The president is ruling by executive order, by fiat. Policy on oceans should come through Congress. This is really an example of the administration simply not giving information on what it is doing."
The proposed restrictions are "unnecessary," and enforcing them would  be "overstepping currently managed sustainable management regimes, reducing US fisheries competitiveness, and yielding few, if any, ecological benefits,"  according to a report issued two weeks after the State Department conference by the Western  Pacific Regional  Fishery Management Council -- a group created by the federal government itself.
The group also declared that the administration "failed to consult the [Council] about the true economic and environmental impacts of its plan to expand the Monument," which overrides existing fishery management legislation.
The fishermen also charge that the expanded preserves will almost entirely affect U.S. fishing vessels, which they argue are already the best managed and most supervised in the world, even though any overfishing in the vast Pacific involves a variety of international fleets, and notably these days a rapidly increasing flotilla from China. 
The target for much of the fishing effort are tuna and mackerel and their kin, high-value food sources that are not heavily fished in the waters that would suddenly join the expanded preserve areas, but could become much more productive in future years, when El Nino currents change Pacific warming patterns and push fish stocks further into the reserve waters. But even then, U.S. fishing vessels are likely to honor the no-go areas, and others may not.
Moreover, according to Ray Hilborn, a professor in the School of Aquatic and Fishery Sciences at University of Washington and a renowned authority on global fish populations, the marine preserves embody a zoological contradiction. They are supposedly intended to protect fish such as tuna that are "highly migratory" and travel thousands of miles during their life-span.
"The areas proposed are too small to impact the stock status of large tuna populations that span the Pacific Ocean," he told Fox News. "These are token closures and will have no real impact on the fishes of the ocean."
((((((((((((((((((((((((((())))))))))))))))))))))))))
Linda Beans's Maine Lobster loses Delaware North business over PETA video
SEAFOODNEWS.COM  [Press Herald] By Eric Russell - July 9, 2014 - 
A New York-based food service company that oversees concessions at Boston's TD Garden and Minneapolis' Target Field, among other places, will no longer purchase lobster from Linda Bean's Maine Lobster, a well-known processor.
The decision by Delaware North Companies Sportservice of Buffalo, New York, was made after the animal rights group PETA released secret video footage last September of lobsters and other crustaceans being processed at the Rockland facility.
That video, taken undercover by a PETA investigator who worked briefly at Linda Bean's Maine Lobster, shows, among other things, live lobsters being ripped apart by hand.
PETA – which stands for People for the Ethical Treatment of Animals – claimed the processing method shown was cruel and inhumane.
Wendy Watkins, vice president of corporate communications for Delaware North Companies, confirmed Tuesday that the company is no longer doing business with the Maine company but did not address the PETA video.
"Delaware North has a longstanding commitment to sustainable and responsible practices in food purchasing, and we do our best to maintain very high standards with our vendors," she said in an email.
PETA praised the firm for dropping Linda Bean's Maine Lobster.
"Smart companies know that consumers object to the unnecessary suffering of animals killed for food, so Bean should be prepared to lose even more customers as word gets out," PETA Executive Vice President Tracy Reiman said in a statement.
Linda Bean is a granddaughter of the legendary Maine retailer L.L. Bean and a major player in the state's lobster industry. In addition to the processing facility, she owns restaurants in Freeport, South Portland and Port Clyde.
Bean's attorney, Stephen Hayes, said Tuesday he couldn't comment on Delaware North Companies' decision or its effect on business.
When the PETA video was released last year, Hayes defended the company's processing practices.
"Our practices do not violate Maine's laws on cruelty to animals because lobsters do not come within the covered definition," he said in an email.
"Simply put, lobsters are not 'sentient creatures,' a position supported by long-standing and oft-repeated scientific and governmental studies."
Maine's top fisheries official and others in the industry also defended the Rockland processor.
The research on whether crustaceans feel pain is inconclusive. Some European researchers cited by PETA have found that lobsters exhibit behavior consistent with response to painful stimuli.
PETA said it repeatedly approached Bean's company before releasing the video to discuss "alternative slaughtering methods," but was unsuccessful.
The group said humane ways to kill lobsters include stunning them, which kills any nerves and any ability to feel pain.
A less common method is "high-pressure processing," which kills and cooks lobsters in seconds, but it's expensive.
PETA had asked the Knox County District Attorney's Office to charge Linda Bean's Maine Lobster with animal cruelty, but DA Geoffrey Rushlau declined.
Linda Bean's Maine Lobster is among more than a dozen processors licensed by the Maine Department of Marine Resources. Collectively, they process 10 million to 12 million pounds of lobster a year, or about 10 percent of the state's catch.

Photo Credit: Press Herald
((((((((((((((((((((((((((((())))))))))))))))))))))))))))))))
NOAA's unmanned gliders track ocean acidification in PWS (Fish Radio)
SEAFOODNEWS.COM [Fish Radio with Laine Welch] July 11, 2014

This is Fish Radio. I'm Laine Welch – New technology tracks ocean acidity in Prince William Sound.

More after this -- Fish Radio is brought to you by the At-Sea Processors Association. APA fishing companies hold job fairs and support training programs to promote good paying job opportunities for Alaskans in the Alaska pollock industry. Learn more about fishing and processing jobs at www.atsea.org

Federal grants are available to help "Made in America" companies compete with imports and save US jobs. Learn more at www.nwtaac.org. 

Unmanned gliders are tracking how melting glaciers may be intensifying corrosive waters in Prince William Sound.

"What's happening is in different regions of the world, natural processes are worsening the effects of ocean acidification so that a region like PWS may already be preconditioned to have low pH conditions." 

Jeremy Mathis is director of NOAA's Ocean Environment Research Division at the Pacific Marine Environmental Lab in Seattle.

"So now we have this manmade process combining with this natural process and it makes some regions more vulnerable to the impacts of OA than other regions."

To track the ocean chemistry changes, unmanned gliders are being used inside and outside the Sound. Two Carbon Wave Gliders that look like yellow surfboards are propelled by wave motions and test surface conditions. The gliders are controlled back in the lab with an iPad.

"It's been hugely successful. We've flown these things all over inside PW, we've had great control over them, we've been able to move them to exactly where we want them to be. So that's been hugely successful.  It's making thousands of measurements at the surface all over PWS." 

Another so called Slocum Glider, also controlled remotely, resembles a yellow torpedo and dives down 600 feet, then resurfaces.

"It makes these gliding profiles and it's collecting data on these dives as it moves from the surface down and back up. And when it breaks the surface it transmits all the data via satellite back to the labs." 

Before, researchers contracted with boats and crew to take only about four water samples each year. Mathis calls the unmanned gliders revolutionary.

"That's a the technological revolution that will change the way we collect data, the way we can understand ecosystem environmental processes and how we can ultimately communicate what we've learned to stakeholders. That's the ultimate goal is to make sure we understand what is going on with the fisheries, and the biology and communicate that back to the fishing communities and stakeholders in Alaska."

The gliders have been deployed since May and already are showing preliminary results.

"One of our conclusions is going to be that the glaciers are having quite an extensive impact on the water chemistry of PWS." 

Mathis says the gliders will soon be deployed throughout the Gulf, the Bering Sea and the Arctic Ocean.
((((((((((((((((((((((((((((())))))))))))))))))))))))))
Polar Vortex? Rare Summer Chill Coming to U.S.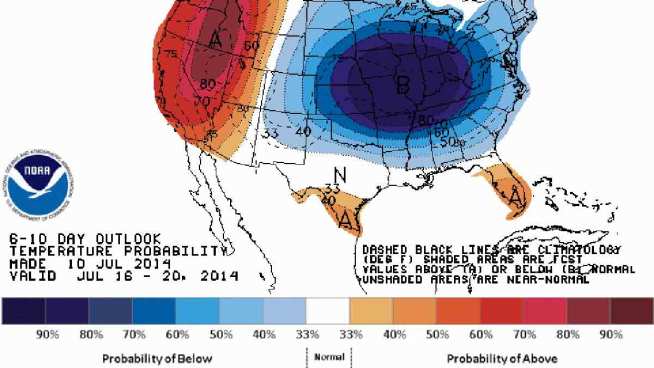 NWS
Temperatures as low as the 40s and 50s will cut across the Midwest and Northeast next week, but talk of a summer return of the "polar vortex" isn't entirely accurate, according to The Weather Channel. The Washington Post's Jason Samenow said the weather pattern bears a "haunting resemblance" to January's big freeze. The jet stream is dipping down farther south than usual over the eastern United States, just as it did back then, NBC News reports. But placing blame on the "polar vortex" is incorrect because the polar vortex exists in the stratosphere and not in the troposphere, the layer of atmosphere closer to Earth's surface where we experience our weather, . according to The Weather Channel.

Read more: http://www.nbcbayarea.com/news/national-international/Polar-Vortex-... 
Follow us: @nbcphiladelphia on Twitter | nbcphiladelphia on Facebook