General angling stuff/update: 
I'm mind-boggled over the size of the fluke being taken off the surf, mainly on live spot.
Chatting with the Captain's Quarters, 8201 Long Beach Blvd, Beach Haven, New Jersey 08008(856) 313-0562. The shop has had two flatties over seven pounds weighted in. See pics further below.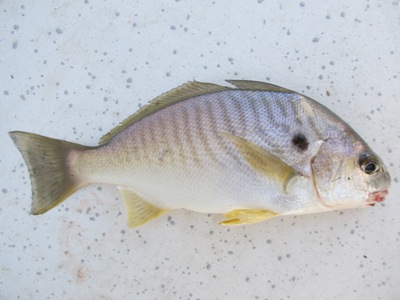 The live spot thing seems vital. They can be taken on small hooks and bait but, far more easily, with cast net thrown into bay areas or even near jetties. The Holgate end will also be holding a goodly load of spot once we can drive down there this Saturday. 
These are hearty fish and easier than bunker or herring to keep alive. Still, they need oxygen and also frequent water changes if you don't get around to using them quickly. They do great in boat live-wells. Unlike bunker and herring, spot work quite well even when on their last leg, i.e. barely moving. While I've had absolutely no luck using spot as chunk bait, I caught hell when I once wrote that they aren't great chunked. You can decide – though I have no qualms of assuring that a swimming whole spot is way better than a chunk of one.
By the by, I have swum spot tons of times and I'm always amazed at how small a fluke will latch onto even a larger spot. As noted in the past, I landed a maybe 14-inch fluke that had grabbed a huge spot and couldn't – or wouldn't -- spit it out before I hauled it into the boat. I bring that up to show you can toss out even larger spot if you have a hankerin' for doormats.
I'm still not sure whether it's better, when fluking, to hook a large spot through the mouth, back or tail.
((((((((((((((((((((((((((((((((((((())))))))))))))))))))))))))))))))))))))
Jim 24", 7lb. 3 oz.fluke on live spot from the beach.
Austin 25 1/2 " 7 lb 6 oz fluke on live spot from the beach 
(((((((((((((((((((((((((((((((((((((((((()))))))))))))))))))))))))))))))))))))))))))))))))
These green crabs are already pervasive in our area. While clamming or fishing, kill upon finding any.
[Northern Pen/ St. John's Telegram]  by Adam Randell 
Placentia Bay , Port Saunders , Newfoundland - Port Saunders fisherman Eugene Caines has been monitoring the green crab invasion for the last few years.
The European species was first detected in Newfoundland back in 2007, and has had a tremendous effect on the Placentia Bay ecosystem.
Because of the crab's invasive and aggressive nature, Caines feared they would move into Northern Peninsula waters.
Now his concerns are a reality and he's got the proof in a five-gallon bucket.
Last Sunday his children started finding them around the shore.
"There must have been a dozen small baby ones on the shore," he said.
A couple of days later he picked up more along the shore.
"It's a devastating species to find in the area. They eat up all the eel grass that other shellfish lives in," he said. "I was told it was too cold for them to survive up this way, but they're here."
The lobster fisherman wants them gone.
"From what I hear about the devastation that can happen, they'll take over the whole area," he said. "It would be nice to get a program on the go, or hire a couple of fellers to see if they can cut back on their multiplication."
According to Cynthia McKenzie, a research scientist with the Department of Fisheries and Oceans in St. John's, Port Saunders is the farthest north the species has been reported in Newfoundland.
The last report was from Parson's Pond. In July, surveying was conducted in the Bay of Islands area.
"We actually went to Port Saunders and put (traps) off the public wharf," she said.
"We could go out there for a period of time, look around and do surveys, but it's the people who are actually living there who are going to see it. The people being aware is great because they let us know."
McKenzie is now in the process of working with Caines to obtain a licence to trap green crab before the species can get a foothold in the area.
She said studying green crab around the province has produced interesting results.
She said a grad student is studying the life cycle of the species, and she thinks because of the colder climate they are reproducing earlier, with the female crab capable of producing 165,000 larvae during its five- to six-year life span.
The cold-water species is also highly resilient. According to McKenzie, green crab can survive in the freezer for more than 24 hours, can survive out of the water for long periods and can survive in fresh water.
"They'll eat anything. They'll reproduce earlier, we think. They release a lot of larvae, so it's tough to beat it back," she said.
When it comes to taking over an area, McKenzie said Newfoundland studies have produced varying results.
"In Placentia Bay, we went from first detecting it in 2007, in a couple of (northern) areas, and by 2013, they are down to Lamaline," Mackenzie said.
"They sort of establish and reproduce and they don't have the predators that will keep them in check. They are displacing the native rock crab, so anything eating the rock crab suffers.
"We have not found any indication that the birds have figured out it's something they should be eating.
"From 2007 to 2013 the numbers have just gone to more than we can possibly count."
On the west coast, studying green crab in the Port Harmon and Bay St. George area from 2009 to 2011, counts would be five to 100, whereas in the same two-year period the numbers in Placentia Bay would go from five to 200-300 a day.
McKenzie said the shallow-water species came across from Europe in the bilge tanks of ocean-going vessels.
Because of the invasive nature of the species, McKenzie said there has been a lot of concern among fishermen, mainly because they destroy eelgrass in search of food. Eelgrass is ecologically important in the area for all species of juvenile fish, including cod.
"We are working on the paper now that shows, in areas where there are green crab, that the eelgrass is almost completely gone," she said.
Also, fishermen are reporting green crab in their fishing gear and eating the eels.
McKenzie said Placentia Bay fishermen have even reported them eating lobster and bait.
She said she thinks the species is being spread around the province via fishing gear.
She said one thing DFO discovered on the west coast and in Placentia Bay was that the movement was not a gradual one up the coast and there appears to be a point-to-point movement.
"So that tells me that it's really likely they are getting into people's gear," she said.
Now that green crab have been discovered in Port Saunders, McKenzie strongly recommends fishermen take a proactive approach and take care of their own backyard.
"It could just spread (if left unchecked). People need to be aware and check on it, take the action to protect their own livelihood," she said.
"We don't have the resources to go out and mediate green crab wherever we find them."
Because of this, lobster and eel fishermen are eligible for green crab licences.
"They are inshore species, it's not something you have to go out and spend a lot of money to clean up," she said.
"You put the bait out, they come to you, and you can get rid of them."
If a licence can't be obtained, McKenzie strongly recommends fishermen dry and check their gear before use.
"Once they are in the water system, you'll never get rid of them, but you can beat them back.