Odd cloud view at the Rip. 
The sands reach out to me ... 
URGENT BUGGY ALERT FROM CAPT. ALEX ...  lhsportfishing@comcast.net
"Jay, seeing if you can pass the word out to the beach buggy crowd.  The beach about one block north of the public tennis court access ramp in Loveladies is almost unpassable. The beach is very narrow there, extremely wet and soft, with most of it sloped downward. I got stuck real bad and had to get towed off. While stuck ,I watched another 4x4 try to make it only to get hung up and then turn around.  Then the truck that came to pull me out got hung up in the same spot and had to turn around. He had to approach us from the north, coming in at East Coast Ave."
Tuesday, October 29, 2019: Nary a surfcaster in sight, mid-Island, midday.
We cannot catch a wind break. It was honking northeast again this a.m., though that wind has fallen off dramatically, early afternoon. We should hereafter feel breezes of 10 mph or less -- first north, then south. The fussed-up seas should subside for tomorrow, nearing calmness by tomorrow's sunrise – and my day off. Let's populate those beaches, casters.
The surf is riled but maintaining a fine light and clean look. It is way fishable. The current 8-ounce lead requirement should shrink to 6-oz or much lower by tomorrow. That's good news for me since I don't even own a meat stick capable of throwing half-pound sinkers.
I did a quick trip to Holgate late yesterday, as much looking for washed in balloons to remove as plugging the inlet and rip. The Nursery (backcut) lived up to its name offering me a couple more one-handers. Here's a look at the smaller of the two, along with the spook plug I've had inordinate success with, to the exclusion of other poppers and swimmers.
HMMMM: Here's a plugging tip you won't hear every day. I thoroughly proved it to myself when recently fishing smaller bass.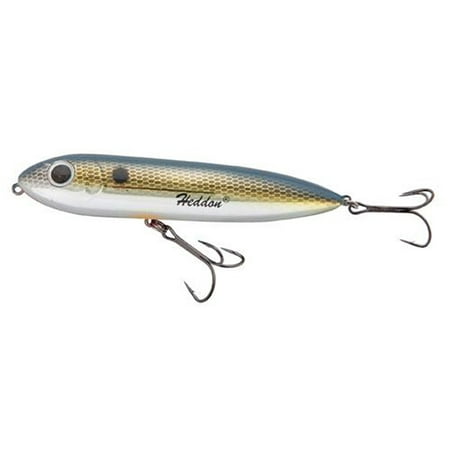 When plugging from calmer shores, go to the water's edge to gain cast distance, launch the plug. Then, (tip time) back a goodly distance from the water, as much as 15 feet away. I'm serious, that far.
Once away from water's edge, do your usual slow retrieve, since plugging demands slow retrieves to provoke a fish's curiosity leading to an eventual attack response.
Why back so far off? Many of you know already.
Bass are famed for tailing plugs right up to the beach. When a caster is standing next to the water, a plug-stalking fish as often as not eventually sees a lurking form on the sand, i.e. you. Mullet have shown me how well fish can see out-of-water forms.
Allowing a striper to carry out an uninterrupted stalking maneuver right up to the water's edge greatly increases the chances of it taking a last-second shallow-water shot at it. On the other hand, it's easy to see when a trailing fish nears the beach and suddenly catches sight of a skulking near-water angler. It leaves a huge surface swirl when taking terrified flight. And it won't be making the mistake of trailing that plug again. I might even suggest making some casts while still away from the water. If any bass have stopped near-in, they might take the plug the next passage by.
As noted, I put this method to work recently and over half the schoolies I caught hit the plug in shallow water … once I did my move-off positioning method. Prior to that move, I hadn't garnered a single near-beach take when poised at the water's edge. Cool, huh?
Below: Mike Laplew is the world's greatest fish photographers, bar none. This almost looks like a painting. It's the real schoolie striper deal. 
I Saw the first couple gannet, always a sign we're getting to the peak of bassing. Photo https://exit63.wordpress.com/2015/04/07/bunker-bomb/.
Check out: https://exit63.wordpress.com/
I know a goodly number of fishing folks and shops to our north, clear up to New England. Nobody has seen slammer blues in numbers, even boaters. A couple singular hookups have come to the scales, where this time of year usually meant insane chopper action. I'm not ruling out their eventual arrival. However, in tourneys past, we'd be past peak, gator-wise.
Unable to keep my born optimism down, I feel this week will offer the first kick-ass bass of the Classic. Kick-assedness begins at 30 pounds nowadays. It will go for a bunker chunk, per Made in China crystal ball.
Ever hear of Lior Suchard? You gotta check out this guy on YouTube. Here's one video: http://www.youtube.com/watch?v=RdH2kulryN0. Use it to check out his other mind-blowing (extraterrestrial?) abilities. He comes from the Holy Land (Israel). I think he came upon something magical and has put it toward portentous usages. After watching him for years, there is nothing short of paranormal to explain his capabilities.
**************************************************
(I'm taking donations for this website. All offerings are highly appreciated ... and used to keep it up and running. Mailing address: Jay Mann, 222 18th Street, Ship Bottom, NJ 08008-4418. Fastest and easiest is PayPal to jmann99@hotmail.com.)
***************************************************
"Free Air": After 3 days of the "Free" air being pulled it is NOW back up. "Free" air and not "courtesy" air bc the air is generated from a air compressor that only works thru electricity. A compressor that runs 24 hrs a day. A electric bill that SCBT pays for to make things convenient for you. PLEASE, be mindful of others. PLEASE hang the hose back up as the air nozzle that keeps getting ran over and being replaced is another issue. PLEASE do not block any of the parking spots of the store. If there is a line for air. Line up behind each other on 4th st and opposite end of Long Beach Blvd. Just be mindful & respectful of others.
Saturday, November 2 there is a tournament on the island. On this day there will be a lot of ppl utilizing air. I will make sure there is TWO compressors available on this day to minimize chaos, traffic and wait time. Have a great day!
Sincerely, Air Police ~Jerry
(((((((((((((((((((((((((((((((((((((((((((((((((())))))))))))))))))))))))))))))))))))))))))))
Above: The Lee family resides on LBI. Great folks!
CHATWORTH, N.J. (CBSNewYork) — This is a great time of year if you like cranberries.
The industry is about halfway through the harvest season and many of them are grown in the Garden State.
Down a long dirt road in Burlington County is Cutts Brothers Cranberry Farm with 128 acres of land and 29 bogs.
"Being out here where there's not a lot of development can ensure that our watershed is clean. We absolutely need clean water in order to grow our cranberries," partner Shawn Cutts told CBS2's Meg Baker.
The sandy, acidic soil of the wetlands is deal.
MORE: Tony Tantillo's Cranberry Sauce Recipe
Cutts Brothers Cranberry Farm has been operating since 1906. Bill Cutts is a fourth-generation farmer. All of the workers at the farm are family.
"Every single person here is related by blood or marriage, so it's the true family farm," Bill Cutts said.
They built most of the machinery themselves and stay in small huts during the harvest.
"People do ask me about the Jersey Devil once in a while and I say that if he was real, we would have seen him out here because I think we're about as deep in the pine barrens as you can get," Shawn Cutts said.
Bill Cutts said one misconception about cranberries is they don't actually grow in water.
"The bogs are dry during the growing season," he said.
The bogs are flooded up to the top of the vines for the machine picking process.
"When they finish picking, then we'll flood it up so everything floats free and we can gather it," Bill Cutts said.
New Jersey Agriculture Secretary Douglas H. Fisher says there are about 3,000 acres of cranberries in New Jersey. The state is the third largest producer of cranberries in the country.
MORE: NYC's Best Restaurants For Thanksgiving Dinner
Ninety-five percent of cranberries harvested in New Jersey are sold to the Ocean Spray Cooperative, so it's likely the cranberry sauce, juice or Craisins on your Thanksgiving table are Jersey's own.
((((((((((((((((((((((((((((((((((((((((((((((((((((((())))))))))))))))))))))))))))))))))))))))
Your tea could contain billions of plastic particles
With all the distressing news about microplastics in your food, you might be tempted to comfort yourself with a nice cup of tea. Not so fast. A new study reveals tea brewed in "silken" tea bags could contain billions of plastic particles in a single cup, the Canadian Broadcasting Corporation reports. Researchers steeped the plastic tea bags in hot water, and found the number of particles released into a cup was orders of magnitude greater than those in other food and drinks, they report this week in Environmental Science & Technology. The scientists aren't sure whether these particles pose a risk to tea drinkers, because few studies examine microplastics' effects on human health. When they exposed water fleas to the microplastics, though, they say the tiny creatures swam "crazily." Apparently, the particles weren't their cup of tea.
*********************************************************
In the spirit of
#Halloween
coming up, throughout the week I'll be sharing a few of the ghostly, odd, and unexplained stories from
#NewJersey
.
Have you heard of the White Stag of Shamong? The white stag is a ghostly white deer said to aid travelers lost in the Pine Barrens. The stag also prevents impending disasters, and it is said to have stopped a stagecoach from crashing into the Batsto River.
 

The Gloucester and Burlington County Quakers had built a bridge over the Batsto River, becoming known as Quaker Bridge. One cold, rainy night, a stagecoach was attempting to reach a tavern on the other side of the river to get out of the weather. Then, a white stag mysteriously appeared in the road ahead of them, frightening the horses. The driver dismounted, rifle in hand, only to find the White Stag had disappeared as mysteriously as it had appeared. The driver approached the site of the apparition, only to find the bridge had been washed out. From that point, no hunter would dare shoot a white stag in the pines and if you see a white stag, it's supposed to be good luck.
Whether or not this is true,

 

#folklore

 

is an integral part of our collective history and historians are often faced with the challenge of separating the fact from fiction. Plus, who can't resist a good story!
((((((((((((((((((((((((((((((((((((((((((((((((((((((((((()))))))))))))))))))))))))))))))
Here's how much a whale is worth to economists
In an ideal world, people would care about whales for the sake of the animals themselves—but in the real world, that's not always the case. To reach money-minded policymakers, economists at the International Monetary Fund analyzed how much the average great whale is worth, National Geographic reports this week. After accounting for the economic benefits whales provide to industries such as ecotourism—and how much carbon they remove from the atmosphere by "sinking" it in their carbon-dense bodies—the researchers estimate that one great whale is worth about $2 million over the course of its life, they report in the trade publication Finance & Development. That means that, after counting up the world's hundreds of thousands of great whales, the global population is worth about $1 trillion—though some say it's priceless.
Southwest Atlantic humpback whales are making a comeback
October 17, 2019
Handmade Reclaimed wood Striped Bass, Tuna, Bucks, Mahi, USA, and more. 40" x 20", natural wood or stained, and any piece can me made into a clock. Ready to hang with hardware on the back, a perfect gift! Starting at $80, shipping available or pickup in central NJ. Message to order!
****************************************************
Submit Nominations for Atlantic Highly Migratory Species Advisory Panel 
Nomination Packages Due November 29, 2019
NOAA Fisheries is requesting nominations for the Atlantic Highly Migratory Species (HMS) Advisory Panel (AP). Nominations are being sought to fill 10 of the seats on the HMS AP for three-year appointments. 
What is the role of the HMS Advisory Panel
NOAA Fisheries consults with and considers the comments and views of the HMS AP when preparing and implementing fishery management plans or amendments for Atlantic tunas, swordfish, billfish, and sharks.
What qualifications are needed to serve on the Advisory Panel? 
We look for one or more of the following qualifications when selecting members: 
Experience in HMS recreational fisheries. 
Experience in HMS commercial fisheries. 
Experience in fishery-related industries, such as marinas or bait and tackle shops. 
Experience in the scientific community working with HMS. 
Experience representing a private, non-governmental, regional, national, or international organization representing marine fisheries or environmental, governmental, or academic interests dealing with HMS. 
Which sector vacancies need to be filled?
To ensure the HMS AP continues to reflect an appropriate and equitable balance and mix of interests, we are specifically seeking to fill the following sector vacancies: 
Three commercial. 
Five recreational.
Two environmental. 
Who can submit nominations?
Individuals with definable interests in recreational and commercial fishing and related industries, environmental community, academia, and non-governmental organizations will be considered for membership on the HMS AP.  Nominations are invited from all individuals and constituent groups.